"[Texas] is a place that can teach you about your own ignorance, because a lot of people, especially people who have never been to the south at all, think they know something about Texas, but there is a lot of Texas to know. That is true of every place, but Texas happens to be a good place to learn it. "
The Best of West Texas, Part I
When you picture west Texas in your head what do you see? Probably something like rolling plains, cattle ranches, and those crazy oil arms. While that scene is certainly true for some of Texas, its not true for all of Texas. West Texas is filled with rugged mountain ranges, high deserts, and golden hills stitched together by the ancient and cold rushing waters of the Rio Grande. Scattered ghost towns, real BBQ, and small Mexican restaurants fill the areas in between the mountain peaks. West Texas evokes the truest sense of the mythical cowboy and wild west. Influenced by the border, the area is diverse, desolate, and most certainly, daunting.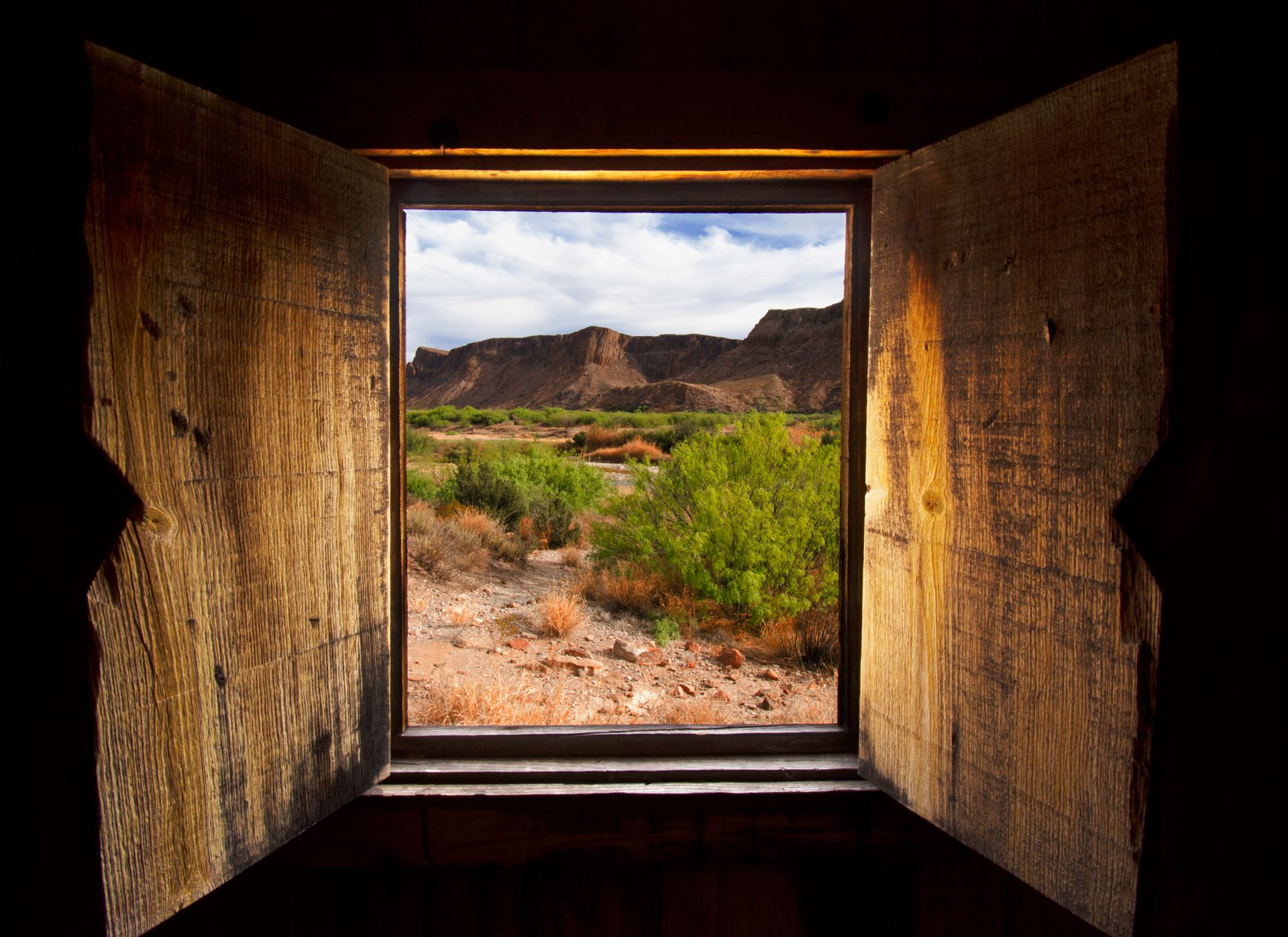 Texas is big, but west Texas seems endless. I'm convinced it's impossible to see everything west Texas has to offer, but I have spent some serious time exploring the canyons and deserts. Google maps, and pictures don't do west Texas justice and almost convinced me not to drive the 10-12 hours from Houston. I was so impressed with my first trip I went back again a month later, and then again after that - making sure to visit different parks and towns each time. Focusing mostly on nature, national parks, and small towns, I tried to put a list together of my favorite places in one of my favorite areas of the country.
Spending time to visit west Texas can be intimidating. There is a lot to do, a lot to see, and a lot of driving time in between. If you are unsure what to see while you are out there, take a look at my top ten recommendations. But first, we have to define what I am considering 'west Texas'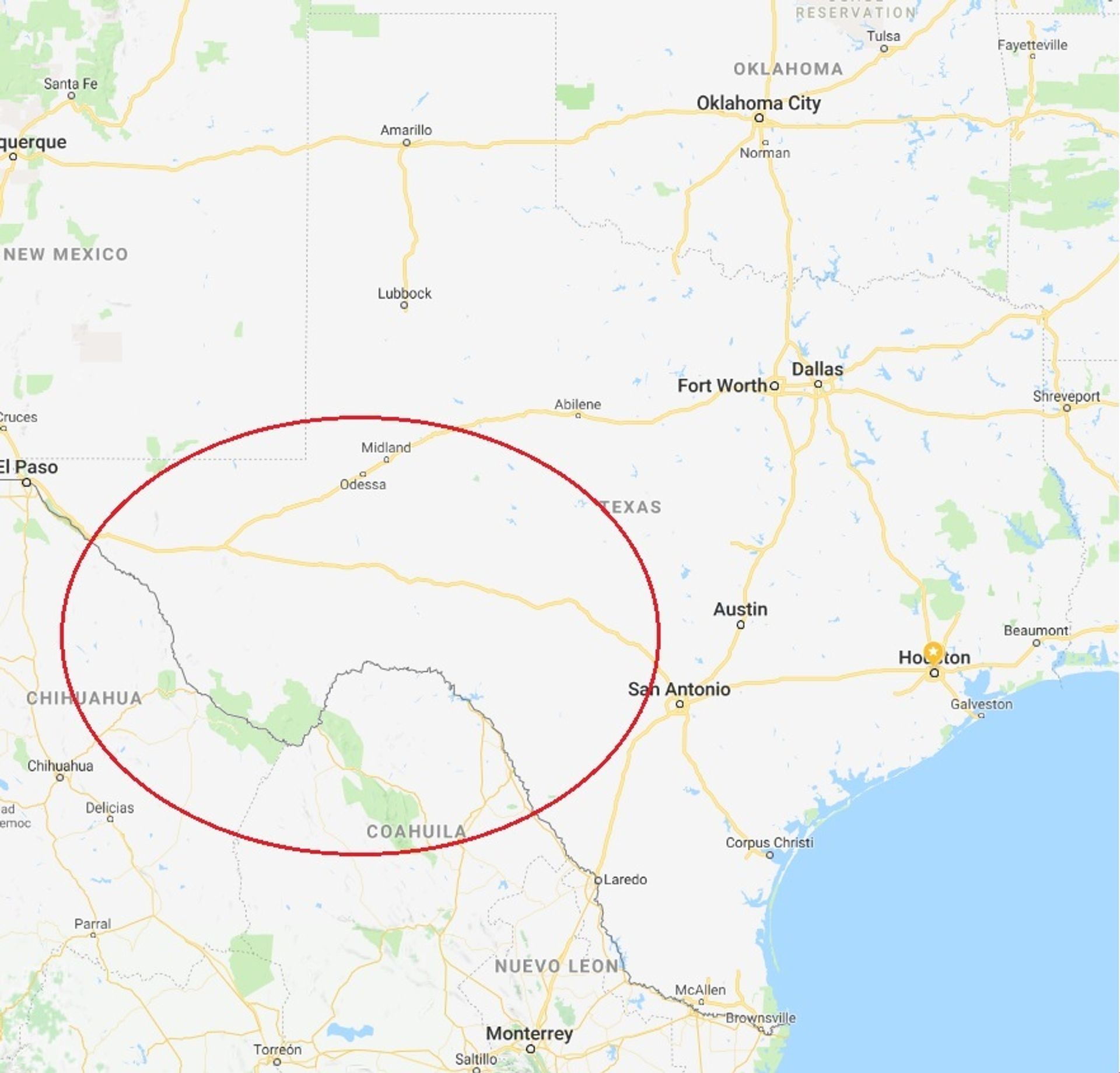 It is difficult to rank these from least to best because they are all amazing, but some stops are more spectacular than others. So instead I ranked them off of my personal opinion in order of my favorites - I find that most would agree.
10) Amistad Reservoir / Seminole Canyon State Park
Heading down Highway 90, the Amistad Reservoir is a massive (100 square mile) reservoir on the Rio Grande just past the town of Del Rio. The water and desert landscape mix beautifully, creating a dramatic contrast to what should be a lakeless area. The topography of the original hills is apparent with desert 'arms' reaching far into the lake, giving the shoreline a sinister look. There are numerous camping and RV locations around the water such as Governor's Landing and Rough Canyon Recreational Area.
As an avid fisher, I disappointingly decided not to bring my tackle and instantly regretted the decision once I found that the lake was full of large striped bass, big catfish, and a healthy population of large and smallmouth bass. There have even been some large gar pulled out of the waters. If you like fishing, Texas continues to be a state worth a visit. From the shores of Galveston, to the banks of the Trinity River, and now the Amistad Reservoir, Texas is the fisherman's paradise.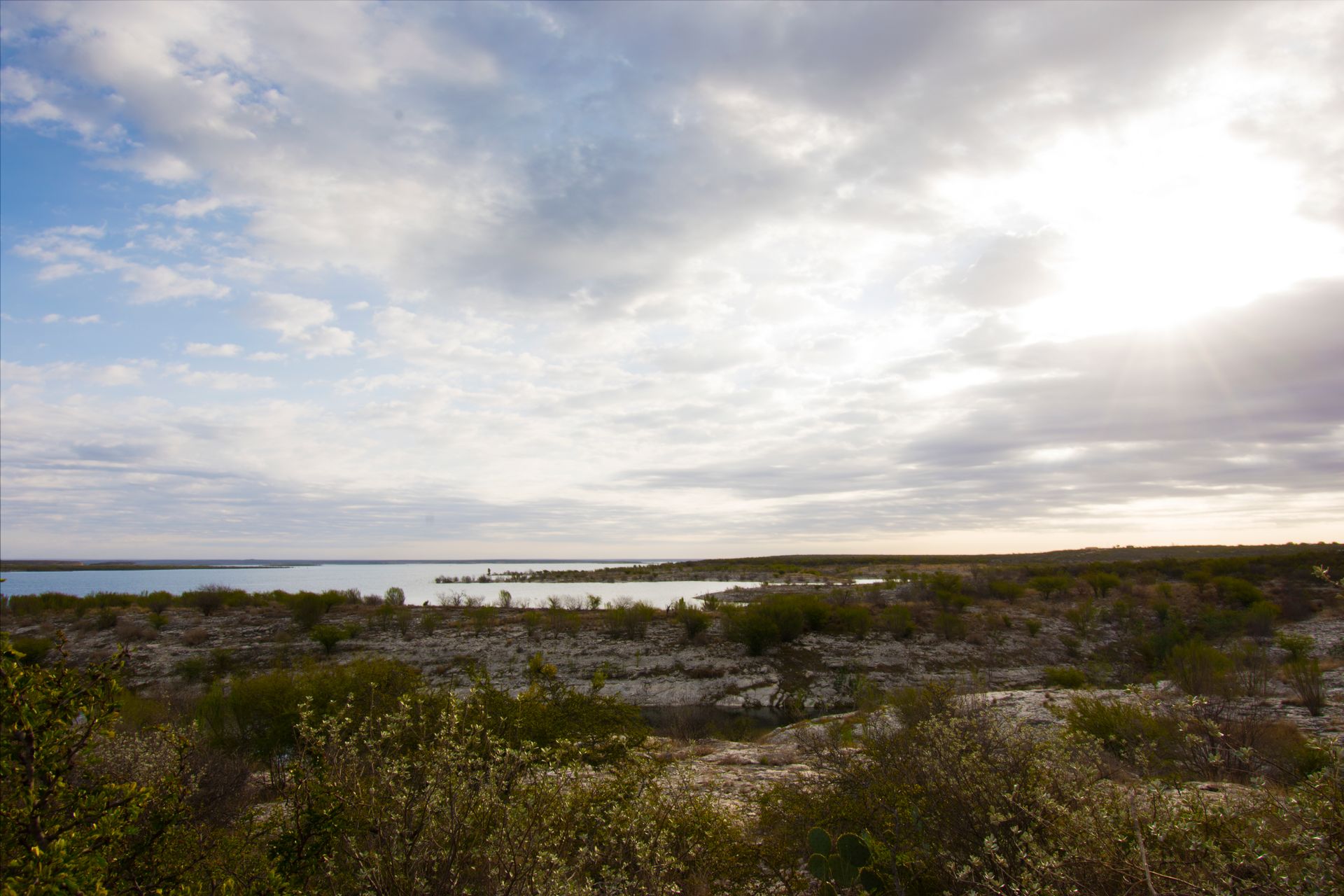 If you continue down highway 90, you run straight into Seminole Canyon State Park merely thirty minutes from the reservoir. Coming east to west, there is absolutely no signage for the park, making it extremely easy to miss. Additionally, phones and GPS don't work so well in the middle of the desert, so keep your eyes peeled for the turn off.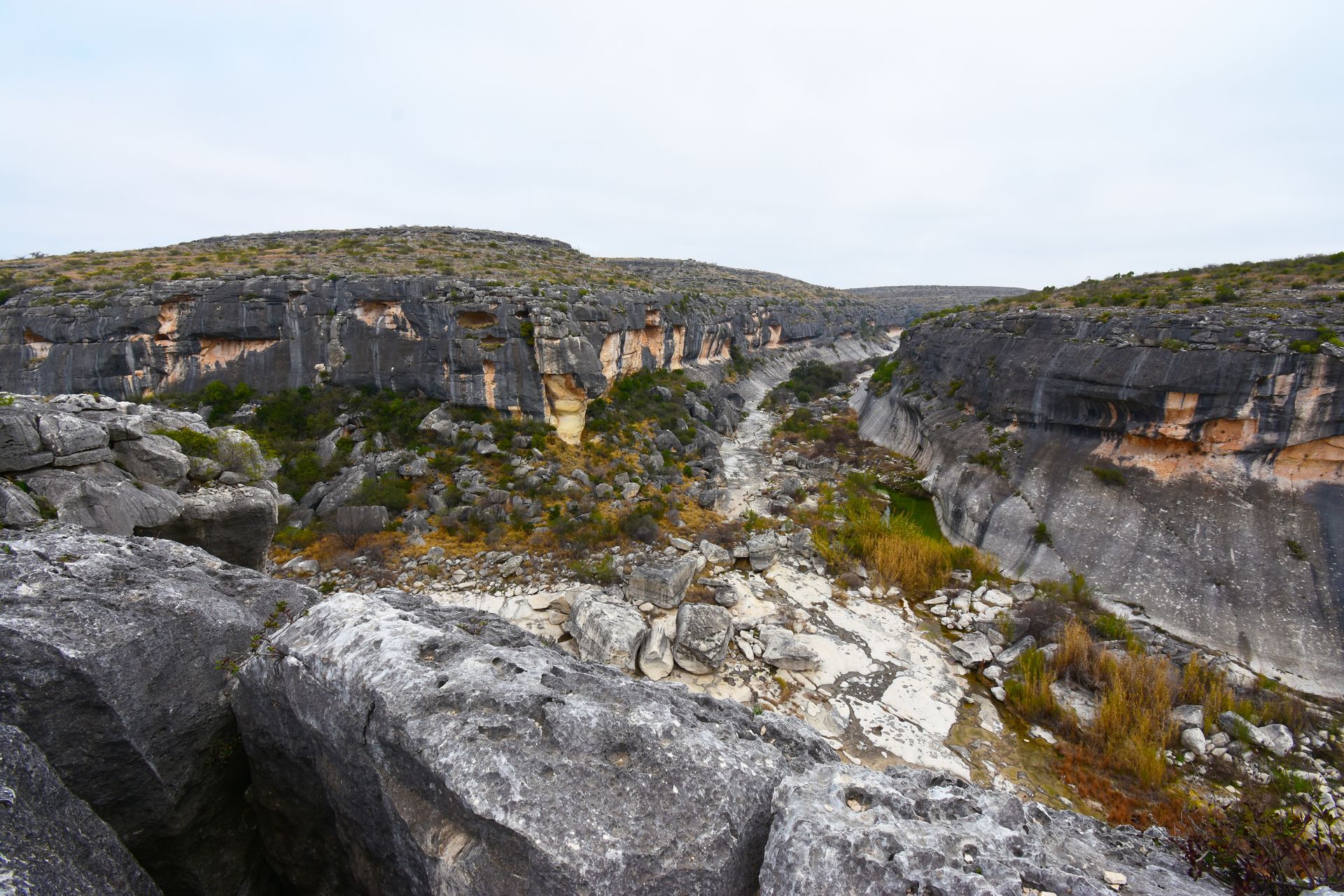 Seminole Canyon is a small state park branching out from the Rio. There are a few options for camping and RVs, but unfortunately the park doesn't offer primitive camping and sadder still, there's no access to the water from the park. The canyon walls are 300-400 feet tall from the mouth of the Rio to all the way to the park HQ. Upon visiting we found that the canyon is littered with ancient petroglyphs, some you can see from the trail, but others can be seen only from a tour guide (10:00 a.m and 3:00 p.m. every day).
Angler or not, the Amistad Reservoir and Seminole Canyon are perfect examples of the Rio's direct influence on the land, people, and beauty of south Texas. These stops make for great breaks on the long and dusty drive out to the far west.
9) Pecos River Recreational Area / Pecos River High Bridge
After leaving Seminole Canyon, you are rewarded with one of the most unexpectedly pretty views in the country (at least that I've seen). The Pecos High Bridge spans a few hundred yards across the end of the Pecos River right near scenic overview - a stop I highly recommend. I ended up hanging out at the bridge for a majority of the night, taking long exposure shots of cars driving across the canyon.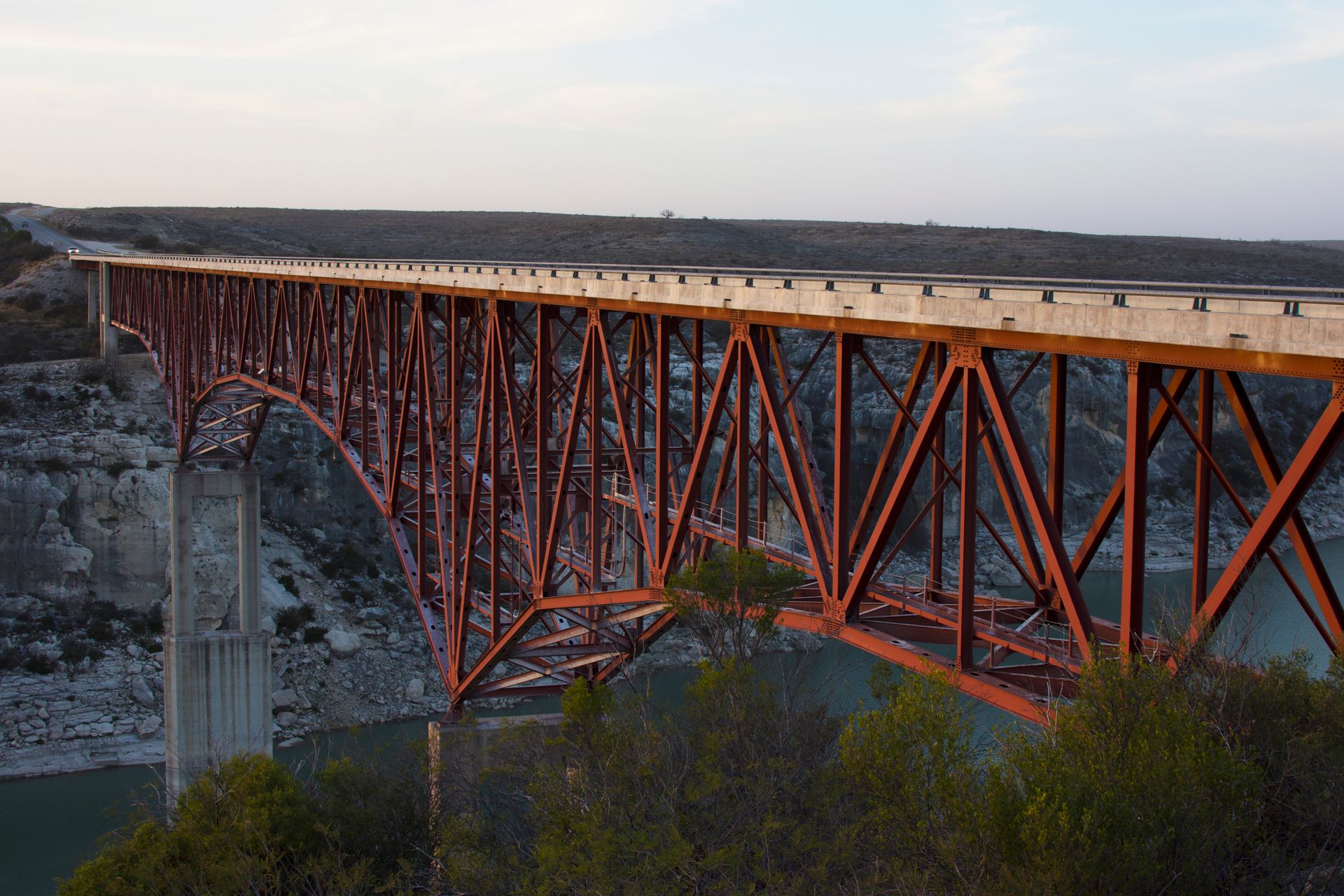 We found another hidden treat right around the corner - a boat launch and a small recreational area that don't show up on Google Maps sits at the base of the bridge. I believe it was called the Pecos River Recreational Area, but I could be wrong. It had grills, covered tables, and I believe camping options! We only saw a few people pulling their boats out of the river - otherwise we had it to ourselves. I almost liked this area more than Seminole Canyon due to the lack of traffic. The Pecos river canyon was also more impressive, and there was access to water.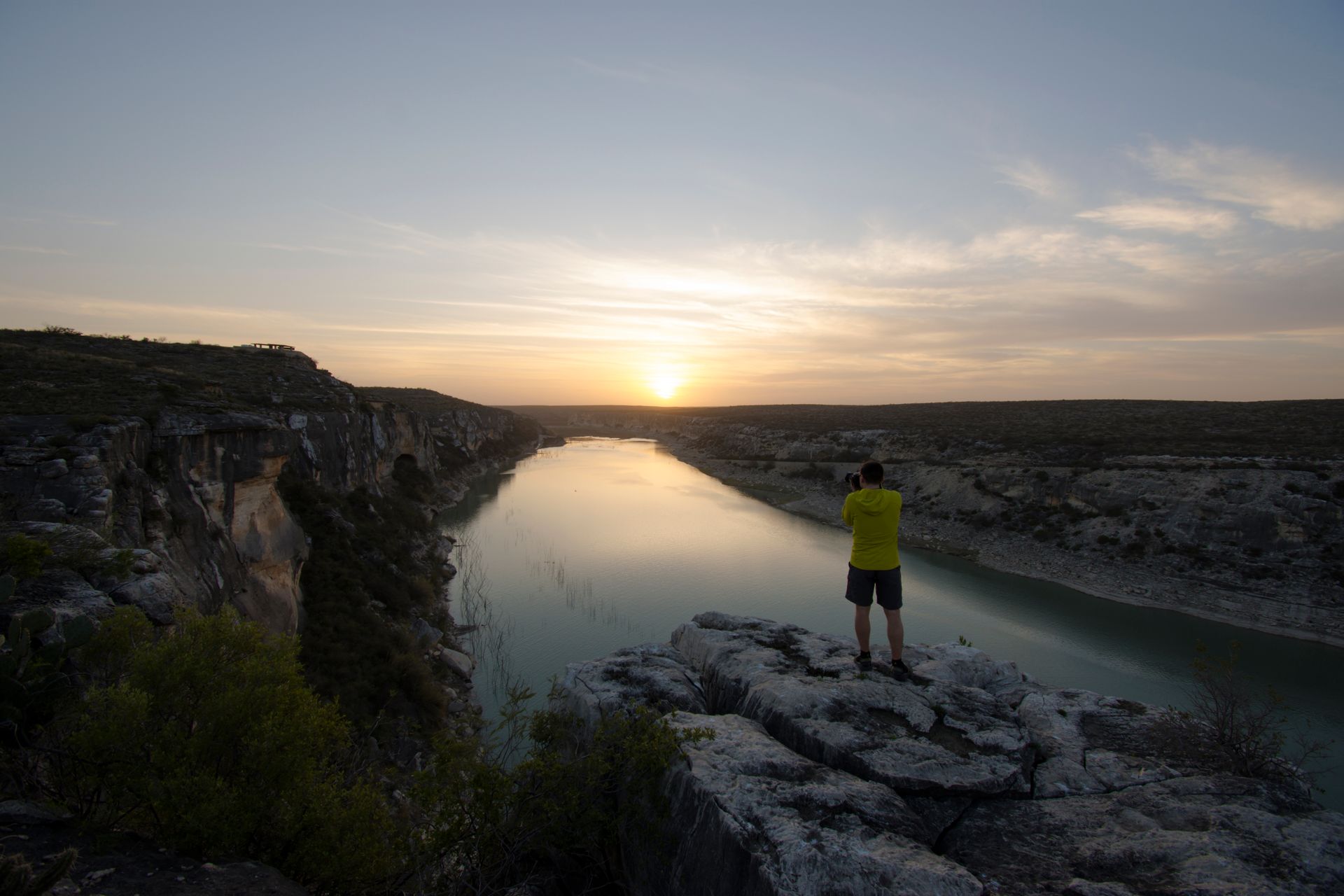 One of the best parts west Texas is that you will come across gems like this, you just have be willing to stop and enjoy the view. It really feels like your are exploring an area that the digital age has not yet caught up to.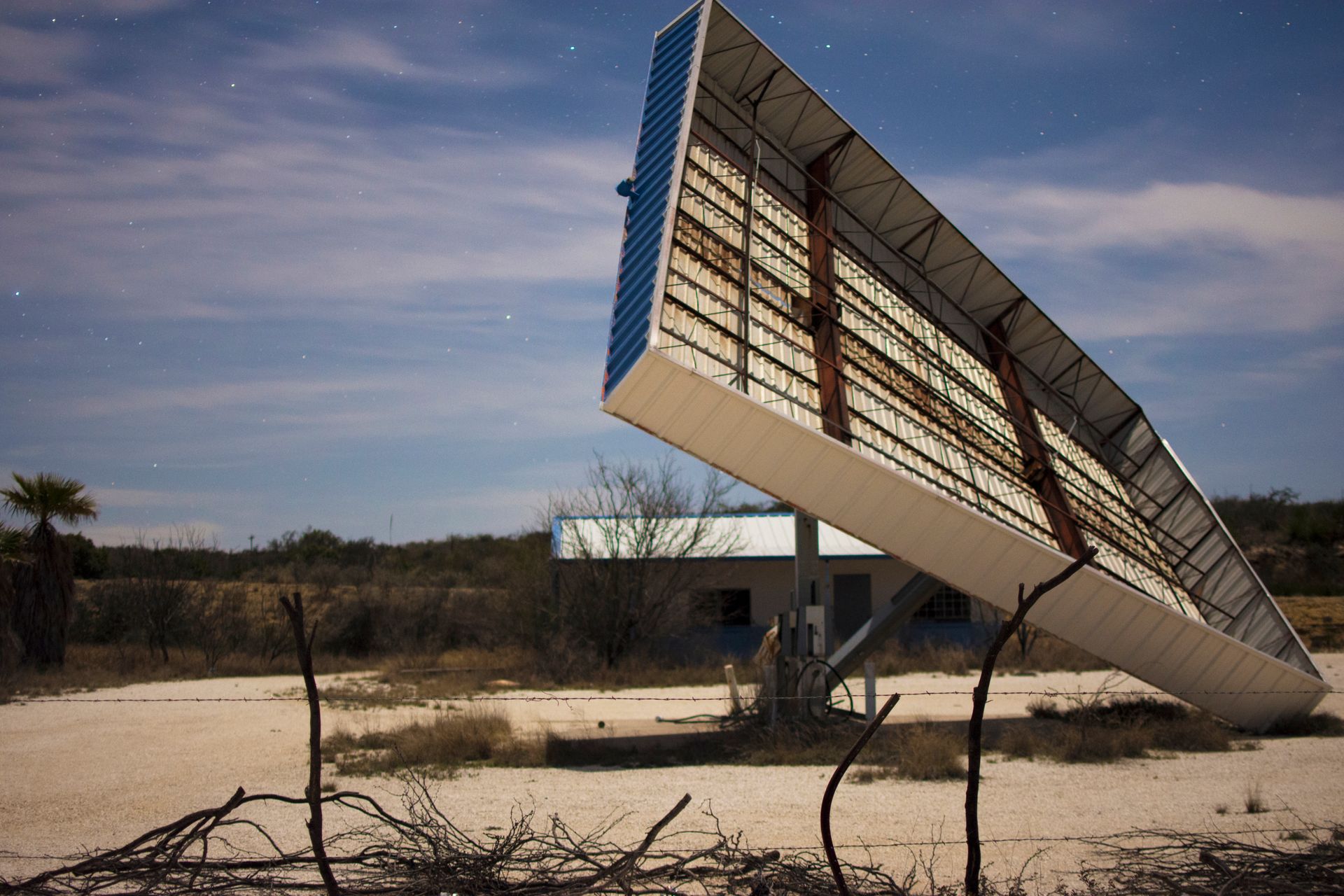 8) Monahans Sand Dunes State Park
Hopping off of our Highway 90 tour, number 8 sits on the north side of our west Texas border. After experiencing everything in west Texas it leaves you with one more surprise on your way out - the white, rolling sand dunes of Monahans State Park. Out of nowhere, almost beach-like sand dunes appear along the road to Monahans, there are signs for a state park which is small but unique, and well worth a visit.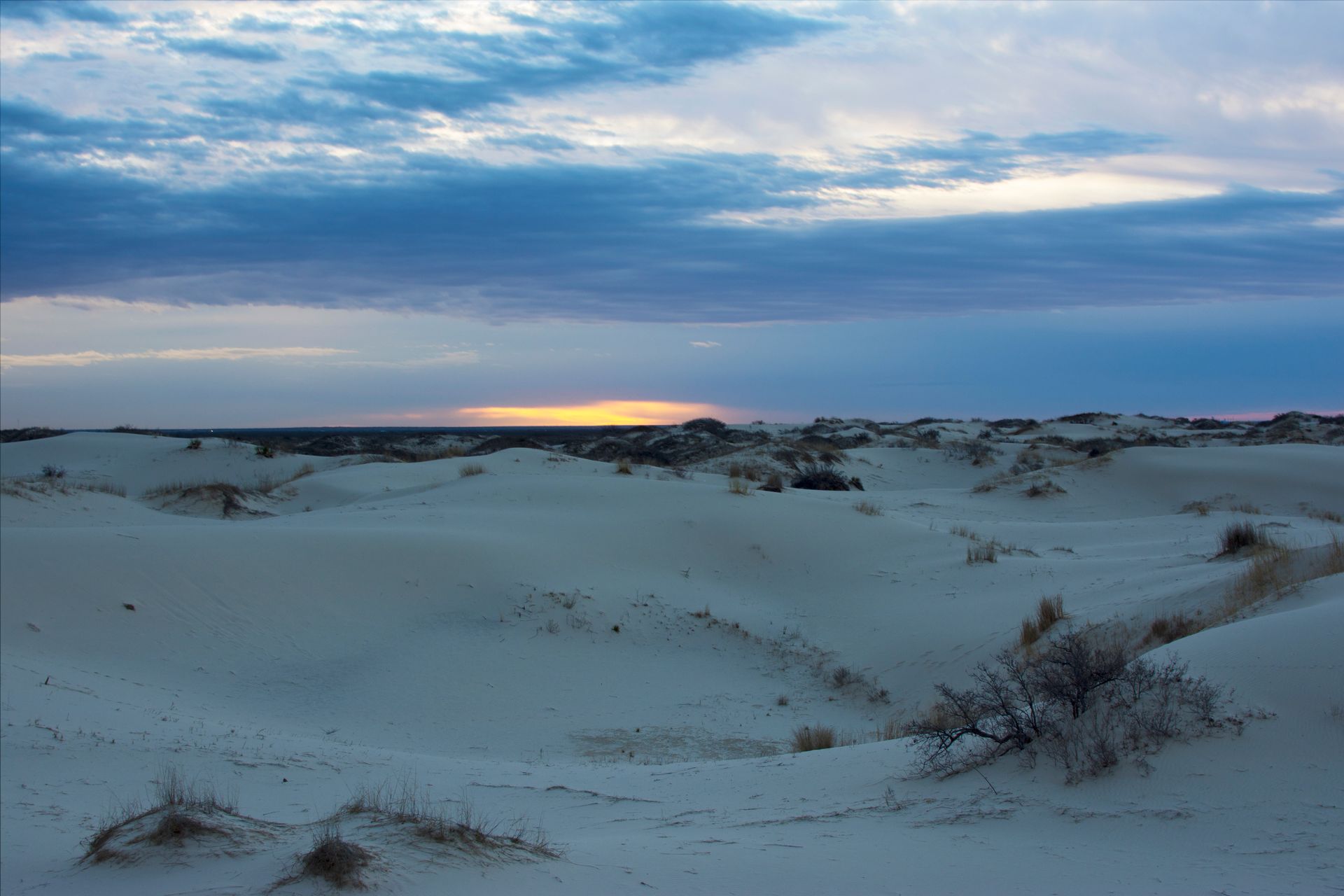 There are a few large sand dunes to climb over and play on, you can even rent sleds to glide down the hills! RV and camping options are available throughout the park, we used it as a last minute campsite on our way back to central Texas.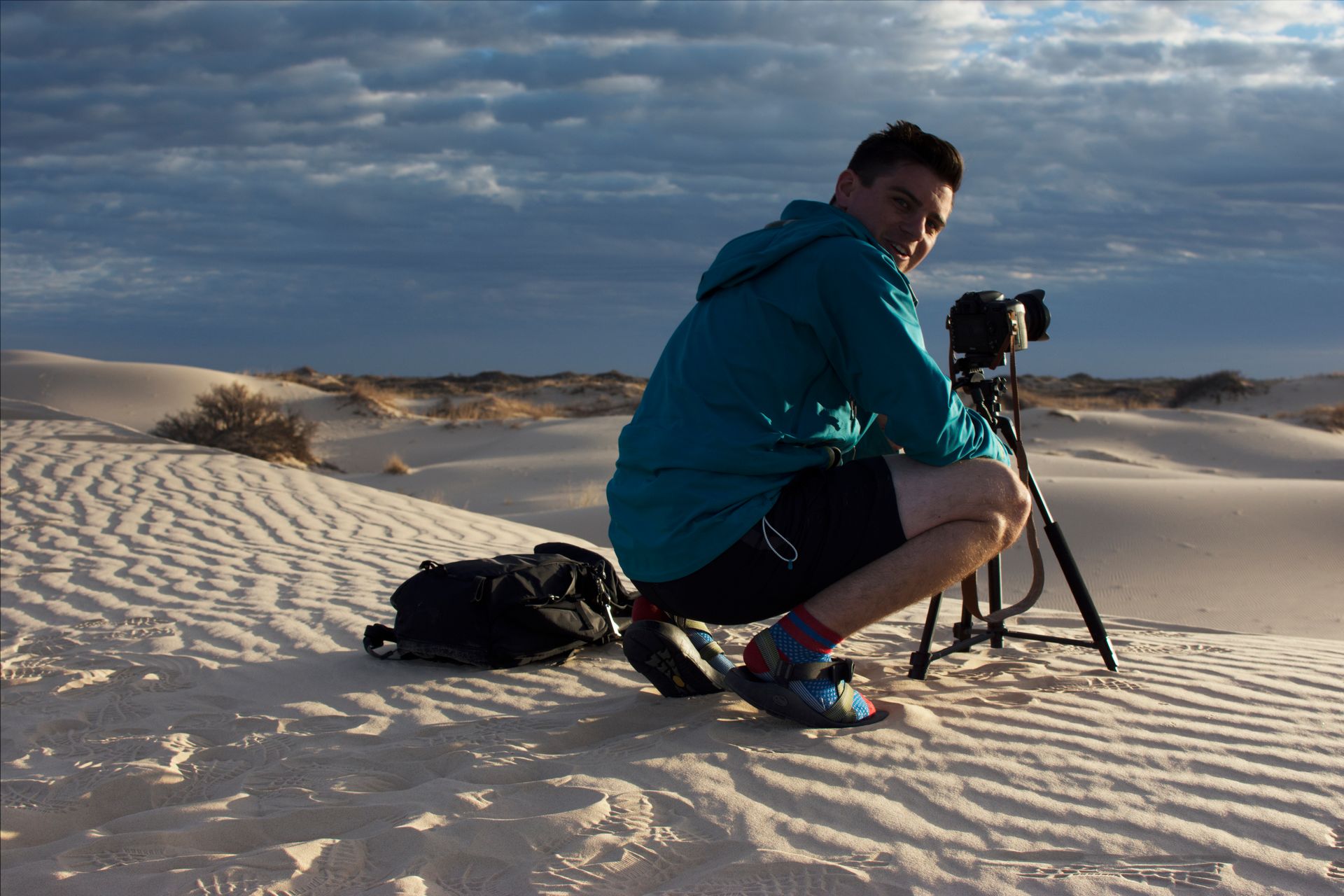 7) McDonald Observatory
If you are even remotely interesting in space (who isn't) than the McDonald Observatory is a must-see. Placed in the remote mountains of Jeff Davis County, 13 miles past Davis Mountain State park, hidden in the hills, are a few observatories and an impressive visit's center. Make sure you visit on a clear night, you don't want miss the nightly Start Party program. Make sure to reserve tickets ahead of time, because it almost always sells out. Note: The star party is not in the actual observatory, it is behind the visitor's center.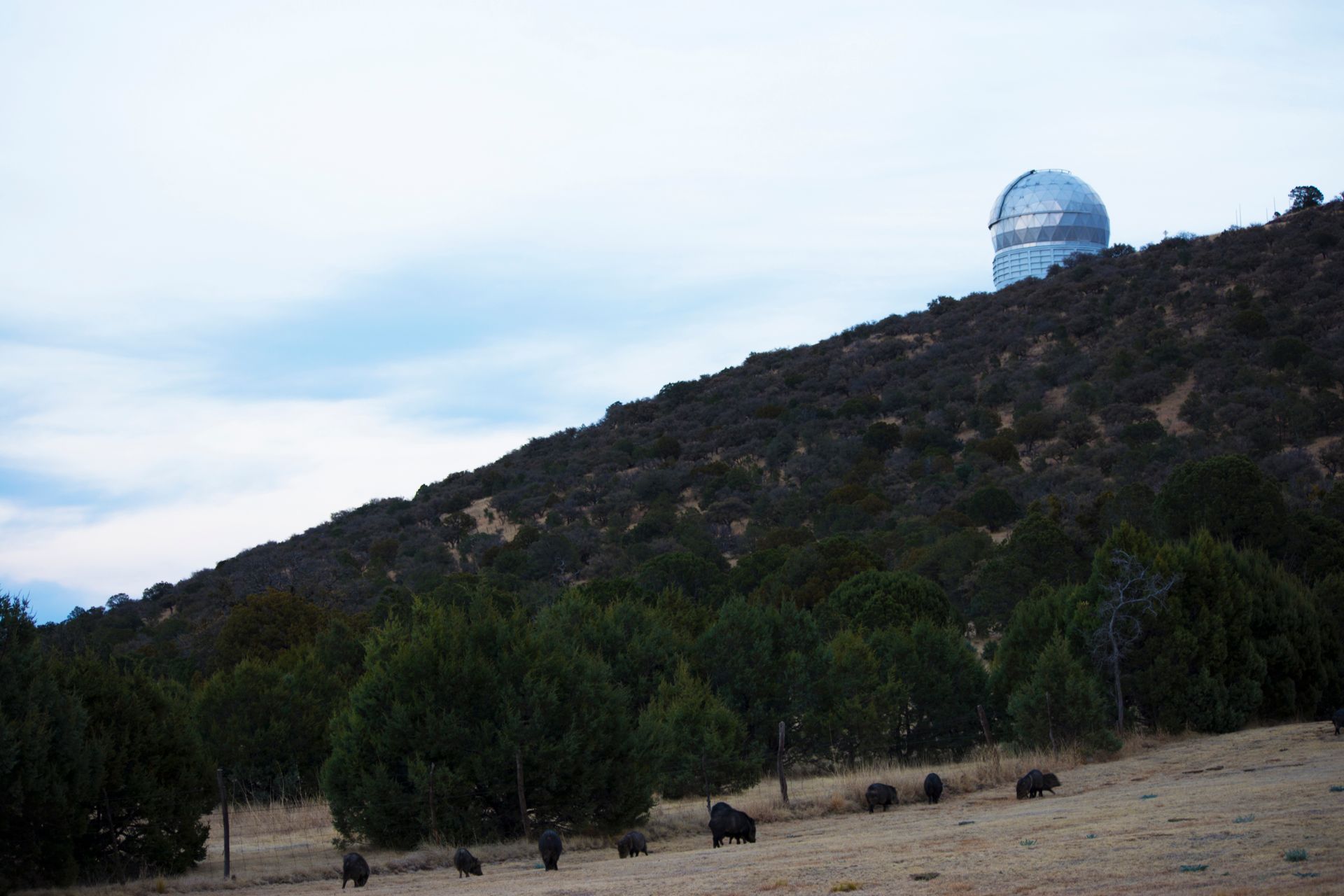 Unfortunately I chose to visit on the cloudiest night possible, but even so, the program went on. The curators kindly gave us the option to reschedule at no additional cost and the tickets have no expiration date, so if you happen to visit on a cloudy night, just talk to the nice people at the front desk and they'll work something out for you. Even if it is cloudy or you happen to be passing during the day, the observatory is still worth a stop. Being that it is high in the hills, the drive up had many scenic views along the way.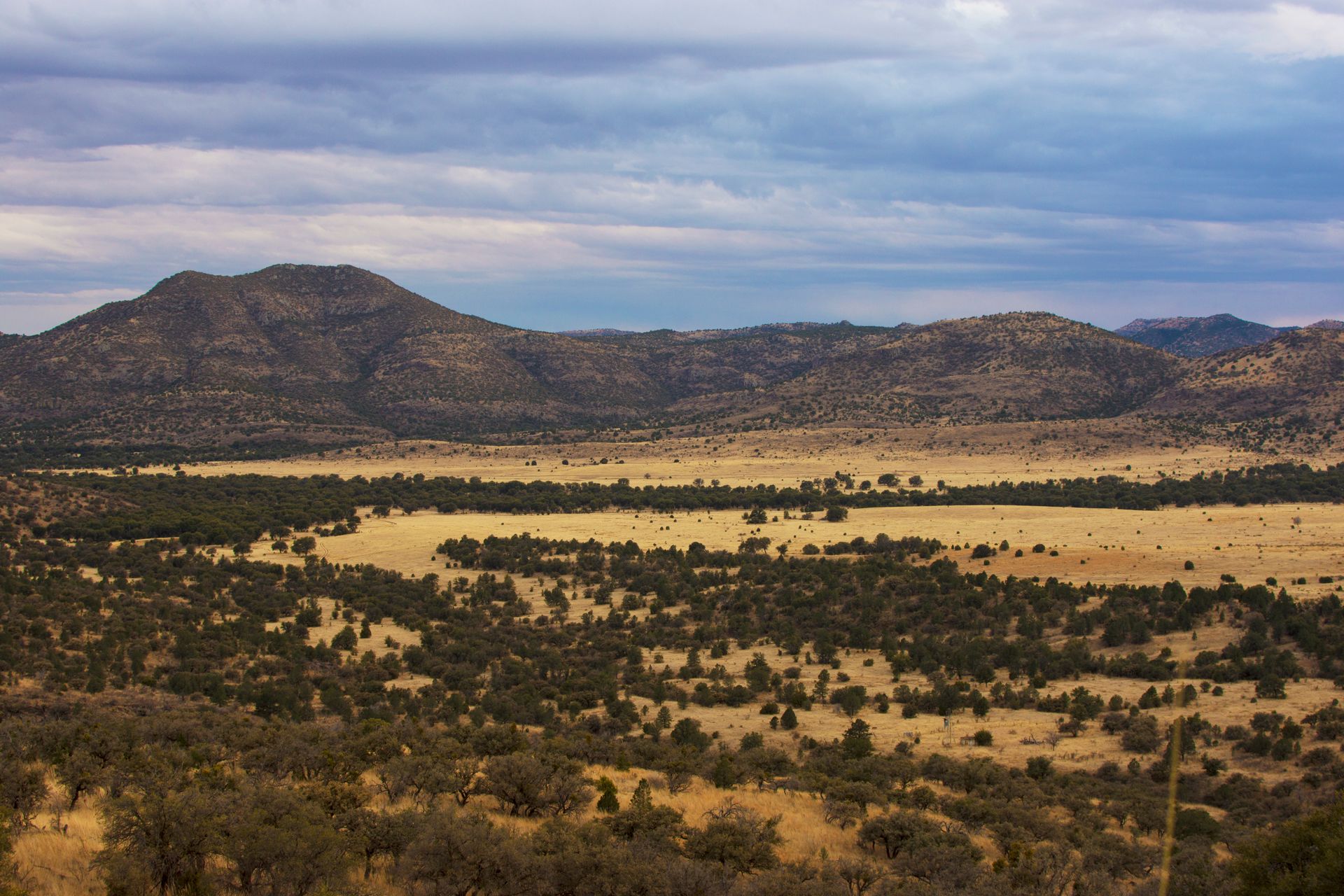 6) Terlingua and Route 170
Driving through Big Bend national park and past Santa Elena Canyon are signs for the tiny border town of Terlingua. Admittedly, there are few option in the town in the ways of food and excitement, but there is the Terlingua ghost town. The slightly-touristy area houses multiple old buildings, abandoned foundations, a little gift shop, and once a year, the world's international Chili cook-off.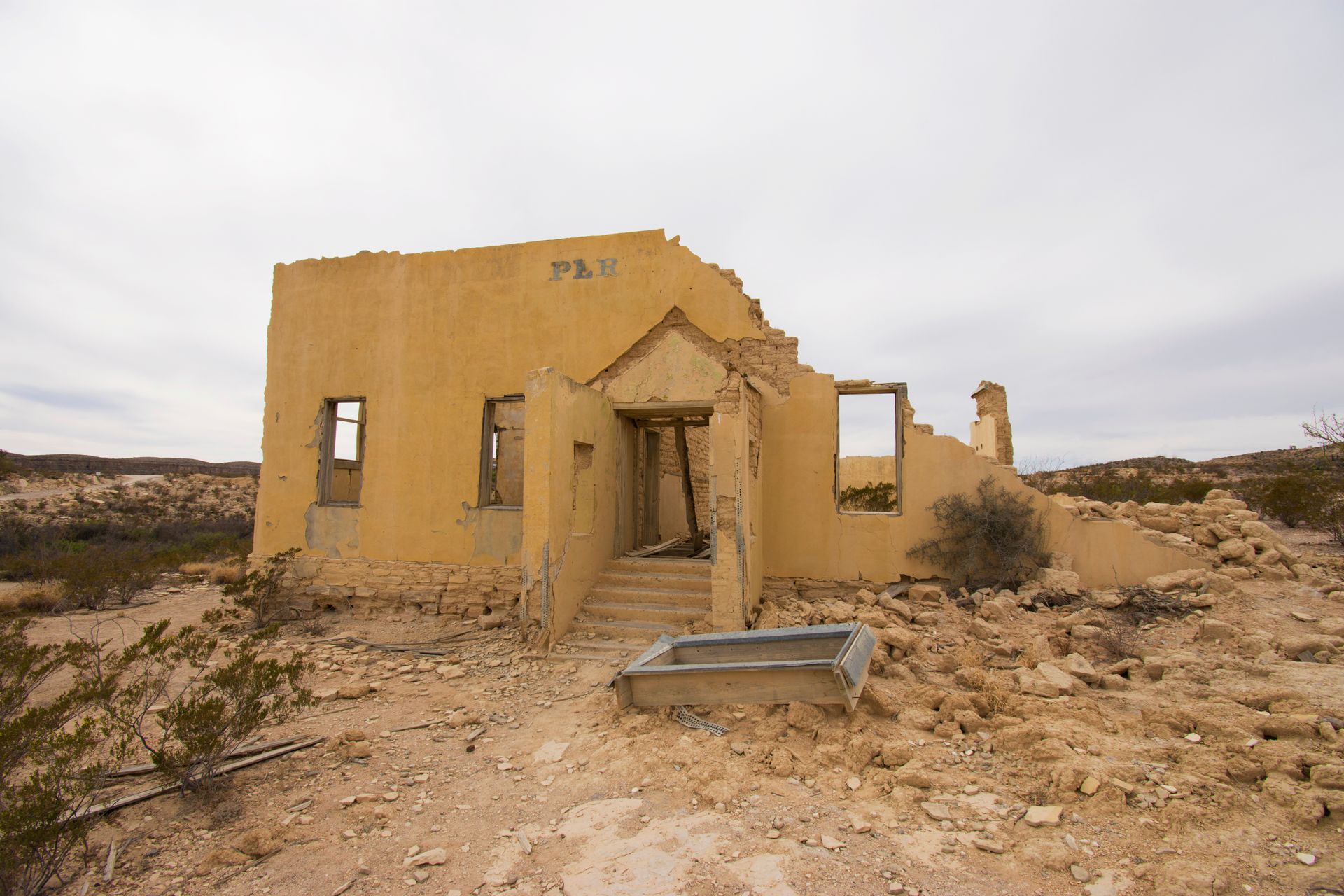 Past Terlingua is Route 170, which runs along the Rio Grande through the bottom portion of Big Bend Ranch State park. Route 170 has become a top contender for my favorite driving routes in the US. It dips through valleys and pastures, never leaving site of the spectacular river. There are various pull offs, scenic overlooks, historic areas, and even some old movie scenes along the route.
5) Marfa / Alpine
If you are a fan of artsy desert villages or small foothill towns, you might want to consider visiting Marfa or Alpine, Texas. Each town expresses different ways of best using the environment around them to enhance the quality of life, and really get the most out of the outdoors.
Marfa
Marfa is a very strange town. It's almost as if all the people who moved to Austin to 'keep Austin weird' realized it wasn't that weird and moved to Marfa instead. From store-sized art pieces to the Marfa Floating Lights, it is a stop for the more open-minded.
The Prada Store is one of the most popular destinations in west Texas, and one I had my eye on visiting for my three year sabbatical in the great state. 30 miles from the nearest town, lies a beautiful boutique Prada Store stationed in the middle of an enormous desert. The store isn't in operation, instead, it is a 'sculpture' and acts a life sized art piece. Intended to never be repaired, the store (to me) represents how fashion is always moving forward, quickly leaving behind the fabrics of yesterday. I'm not big into modern art, but I really loved this piece.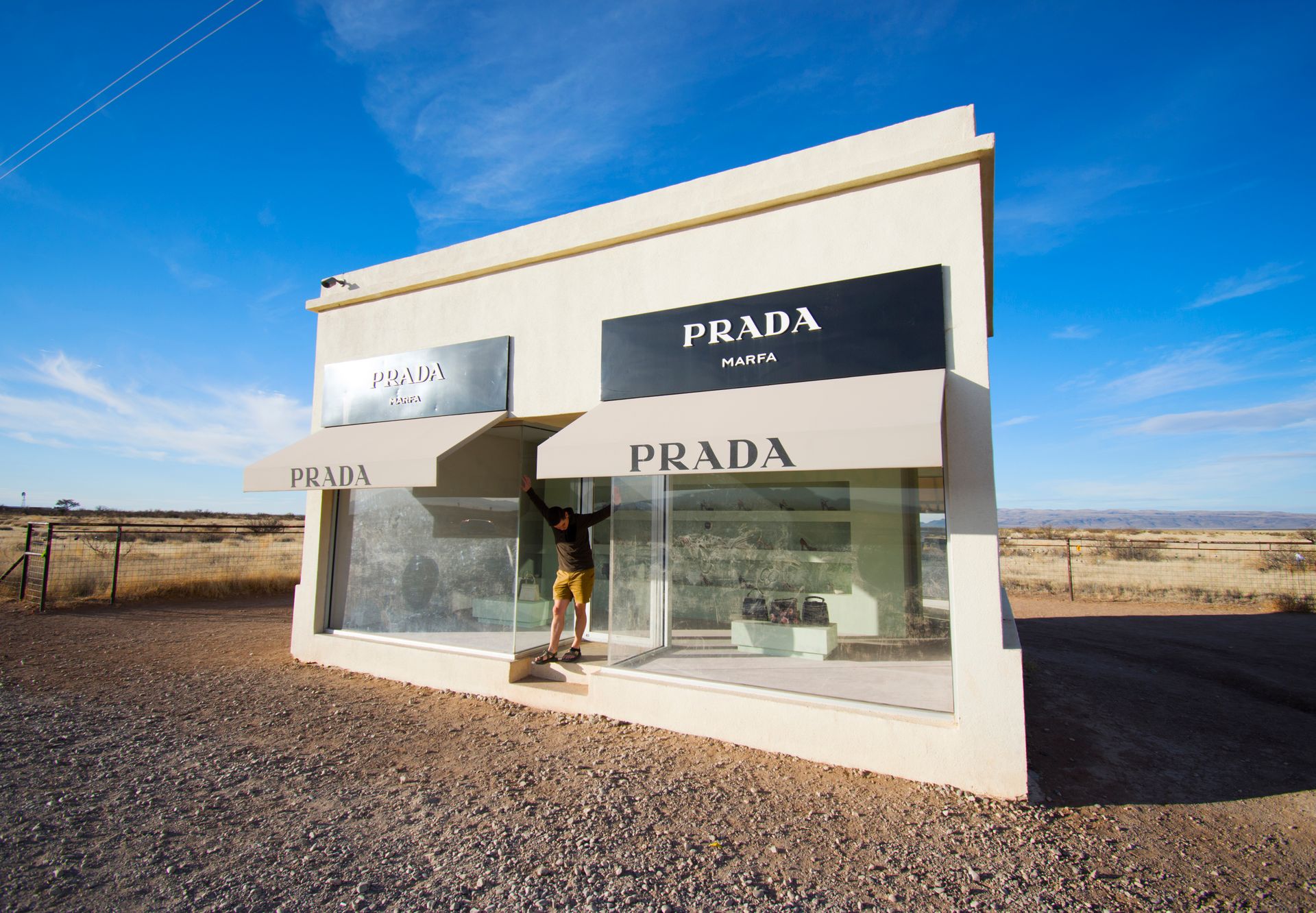 There is a lot more to see in the proper town of Marfa including the Chinati Foundation and an interesting downtown. The Foundation displays several warehouses of interesting art pieces. There are both guided and self guided tours (although some areas of off-limits to self guided tours). If you like art at all, definitely go and check out the exhibits at the Foundation.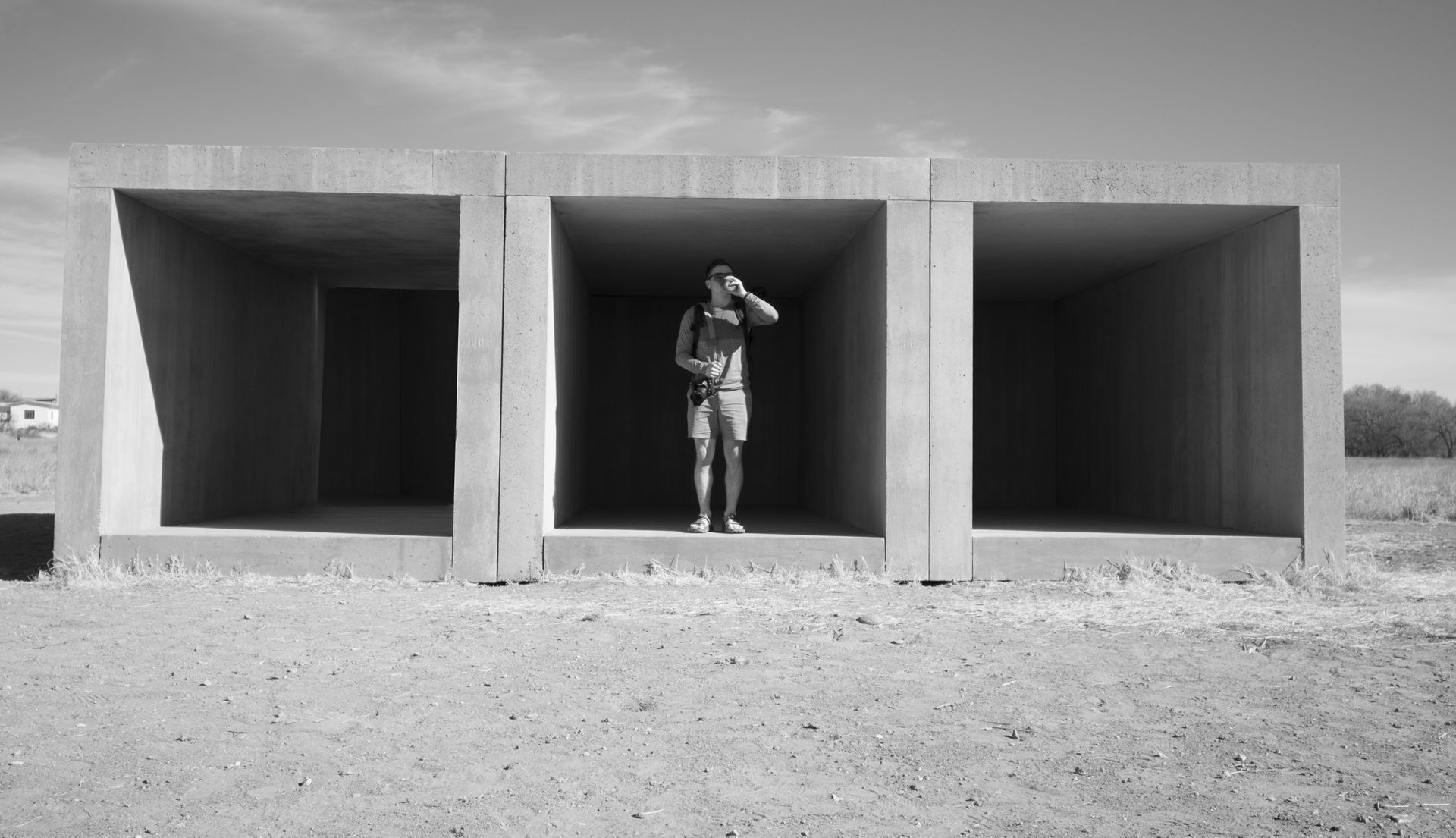 Just east of Marfa on Route 67 is a pull off for the Marfa Lights. In the expanse of the Mitchell Flat, people for years have claimed to see "ghost lights, UFOs, and Willow-wisps" dancing in the desert, as the sign read. Unfortunately I was not able to stop and watch the show, because we passed the area around 10 in the morning, it is something I plan to one day come back and see.
Alpine
The home of Sul Ross State University, Alpine is a bustling little desert village with a colorful and historic downtown district. There are three reasons why Alpine is so high on my list, Big Bend Brewing Company, Big Bend Museum, and the drive from Route 118 to Fort Davis.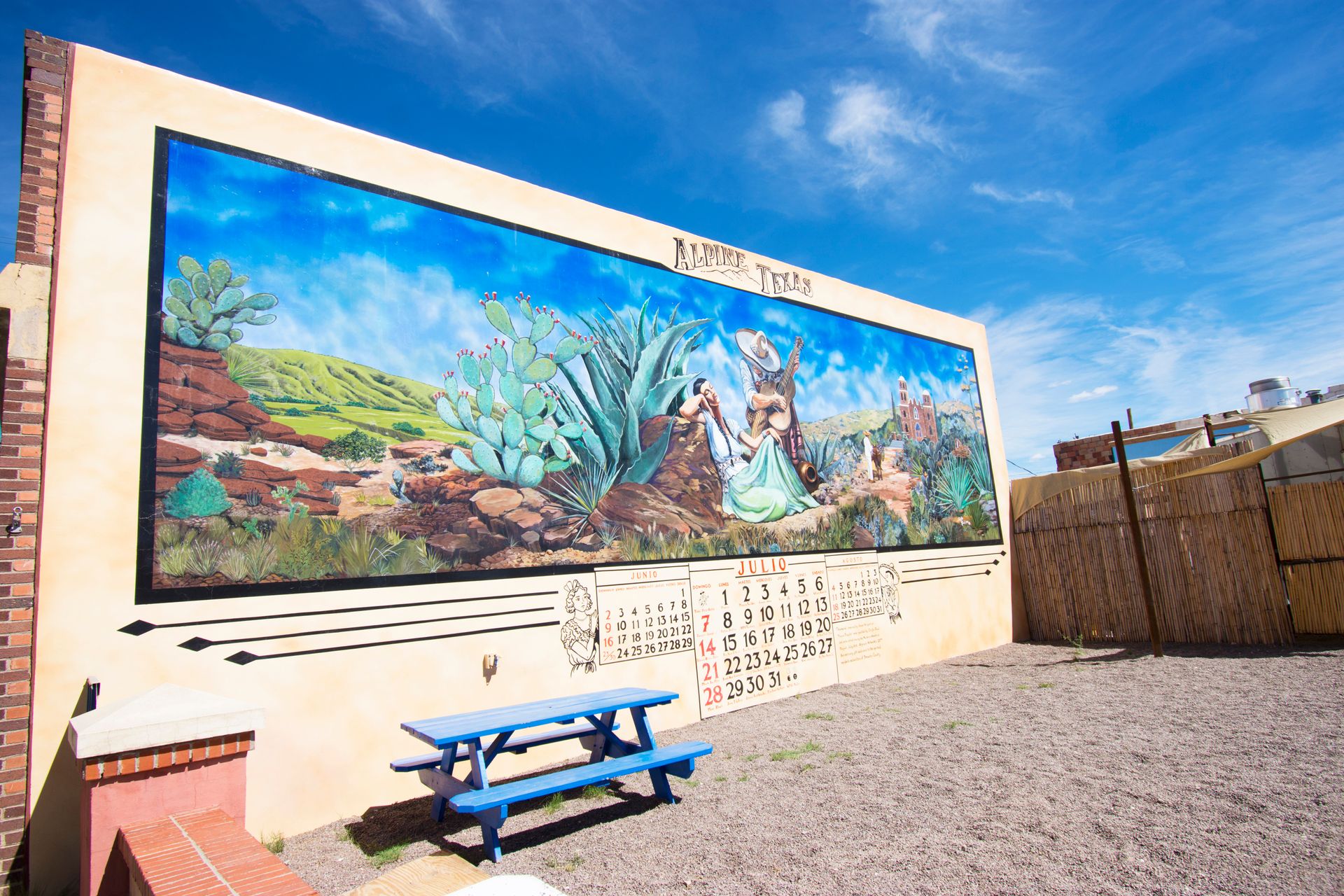 Big Bend Brewing company has to be one of the best breweries I have visited. The staff was super friendly, the facility impressive (especially for such a small town), and the beer fantastic. It also has what became my all-time favorite beer labeled West of the Pecos, a delicious raspberry maibock.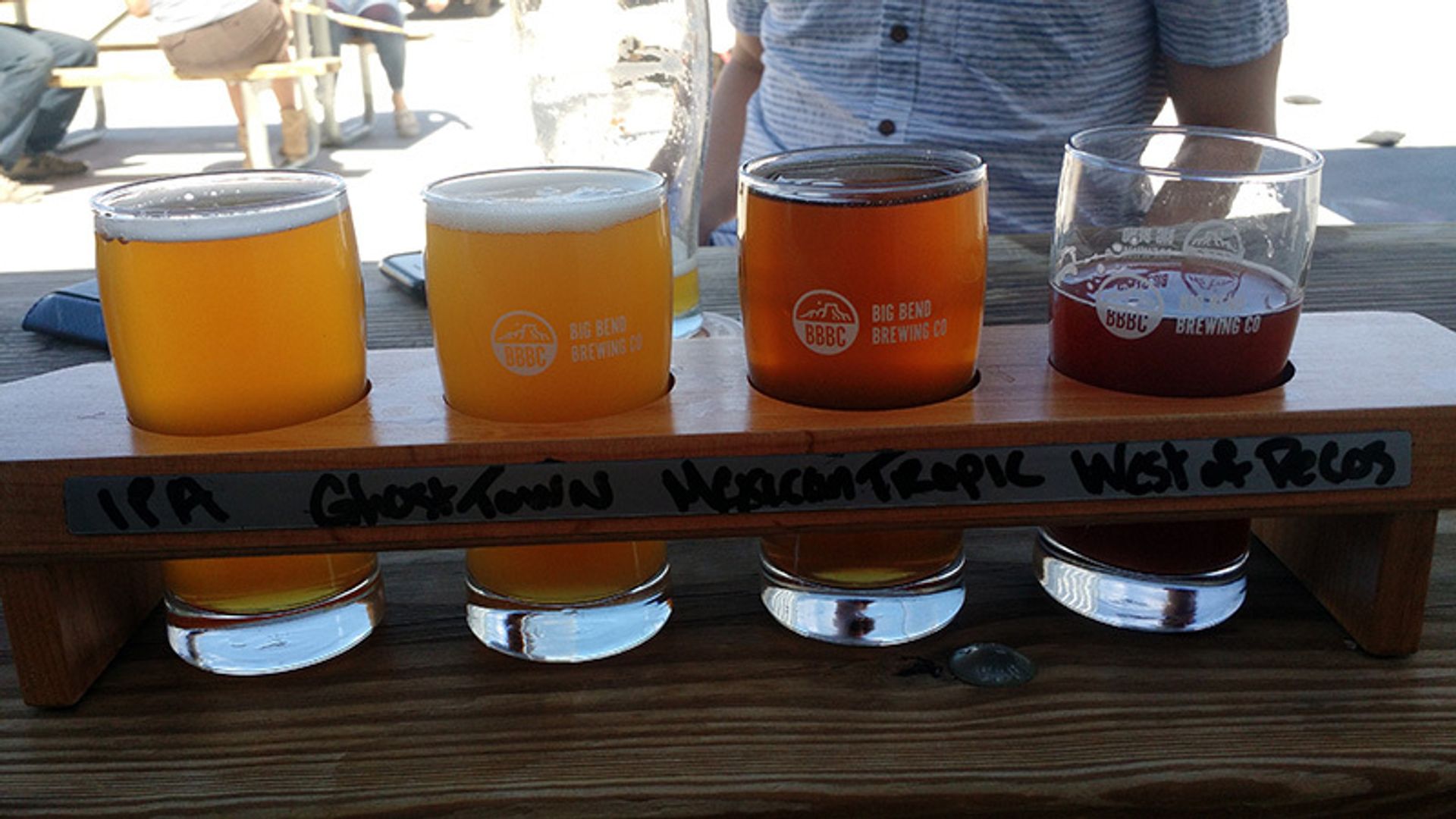 Apparently as a fan of anything and everything Big Bend, I needed to visit the Big Bend Museum that is located on the university's campus. The museum tells the cultural story of Big Bend and the surrounding areas, it shows the geological marvels and the Jurassic finds within the park. I found that Big Bend National Park is a fantastic excavation site for dinosaurs and they have actually airlifted 500-1200 pound bones out of the remote park.
Finally, another road worth traveling is Route 118 heading towards For Davis. The landscape morphs from a rough and rugged, rocky desert to a soft, golden high desert, complete with hills and trees. It was a place I quickly fell in love with.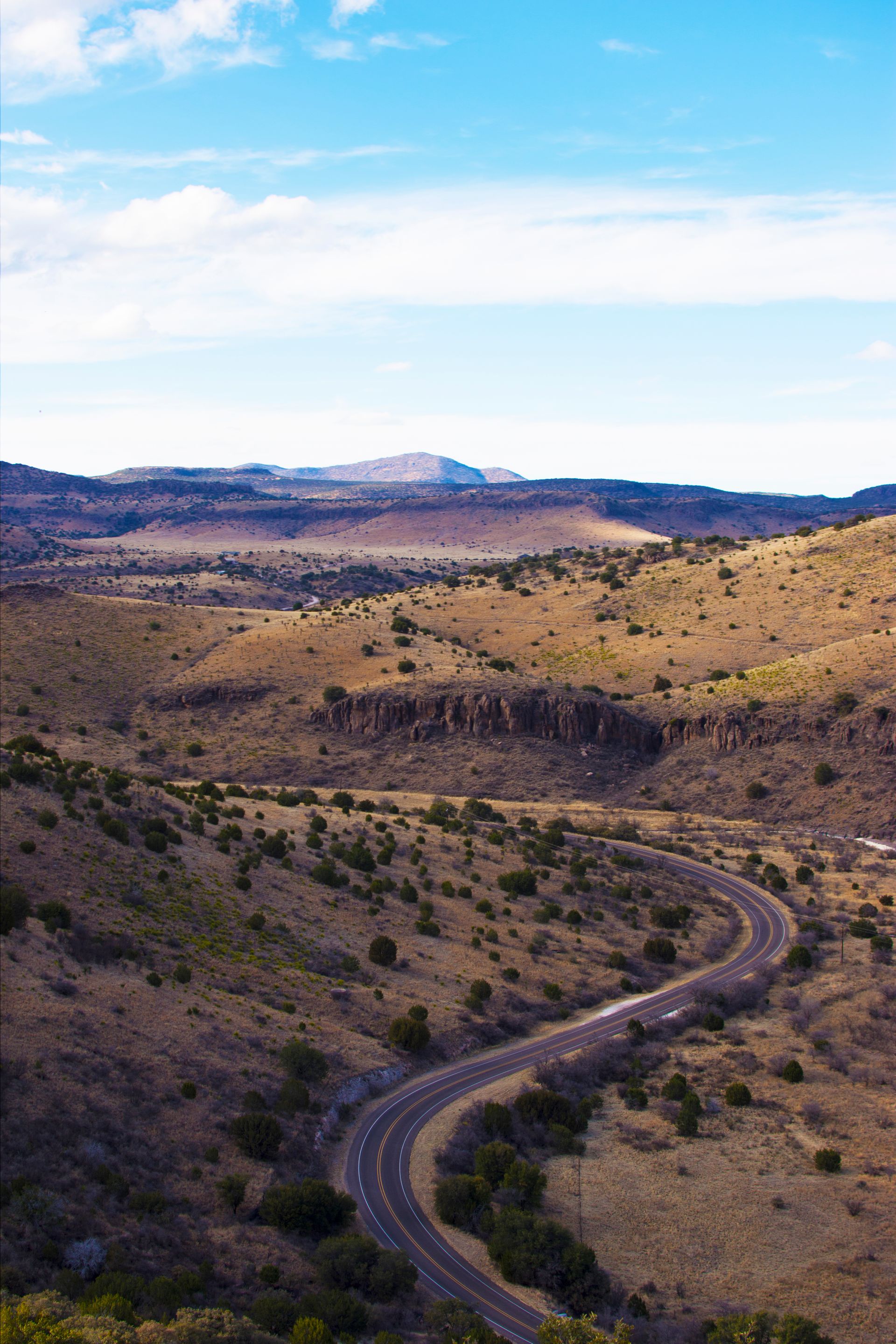 4) Davis Mountain State Park
I wasn't impressed with what I saw on Google relating to Davis Mountain, but we decided to go anyway because the landscape was so pretty on Route 118. Just past the town of Fort Davis is the Davis Mountain State Park. I immediately lost all prejudice and was completely overawe with the parks canyons, mountains, and golden hills. The area is a mix of rugged Texas mountains and canyons and soft and rolling New Mexican hills - making for some beautiful scenery. There are multiple camping and RV options, but they go quick, so make sure to reserve a spot ahead of time. Also the McDonald Observatory (which I placed at number 7) is only 13 miles from the park!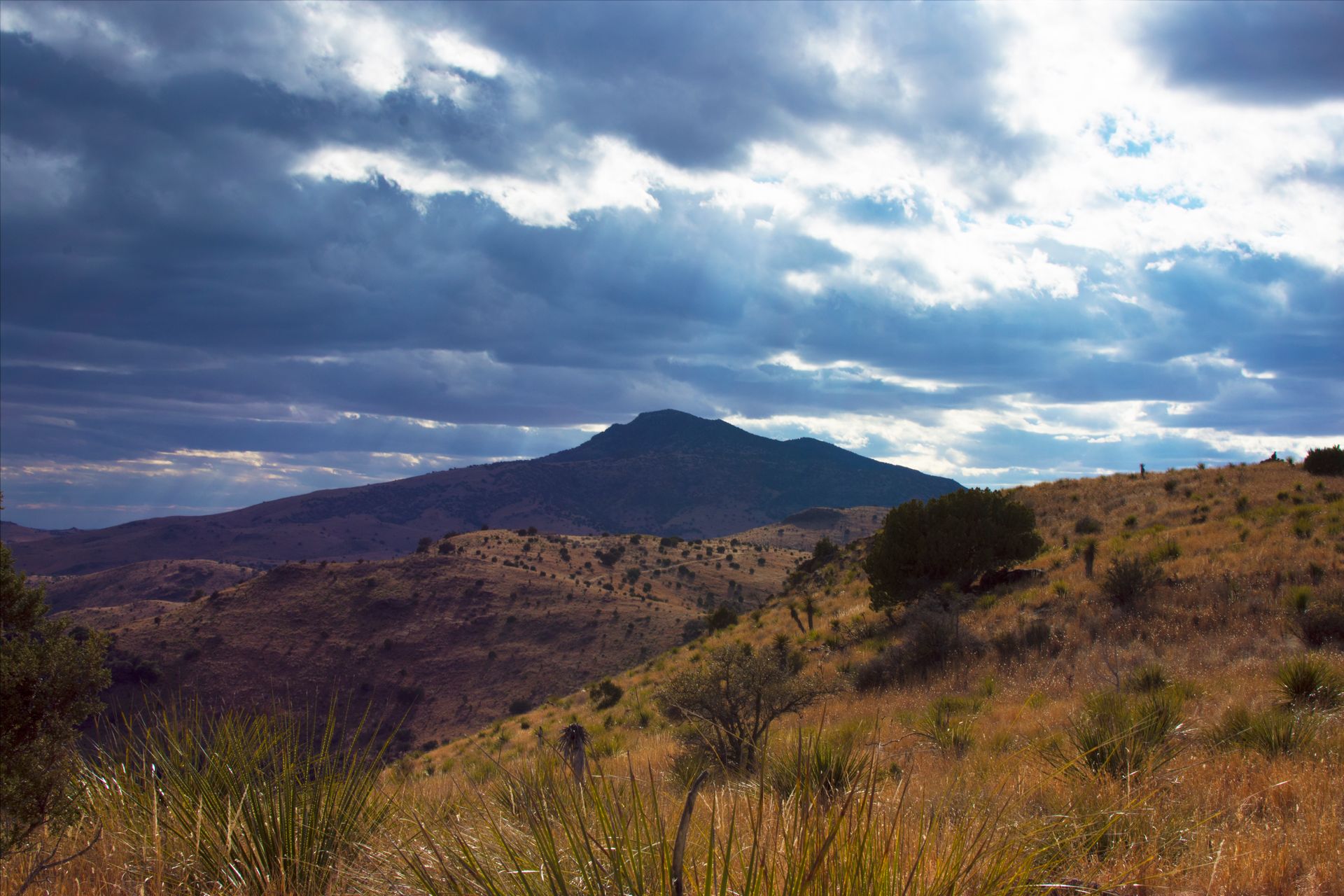 It is a small park with the longest trail being around only 5 miles. Sometimes a walk is all you need and it was nice to do a hike without my massive pack on my back for once. I normally try to keep to long distance backpacking, but I thoroughly enjoyed a casual hike around among the hills.
3) Big Bend Ranch State Park
Not to be mistaken as Big Bend National Park, the Ranch continues the protection of the west Texas mountains well past the borders of the National Park. Big Bend Ranch has its own wild feel and landscape apart it's popular neighboring national park. Generally, state parks offer more freedom when it comes to recreational activities, such as rafting, climbing, biking and hiking. There is even a 5,500 foot landing strip, making it (as far as I know) one of the only state parks you can privately fly directly into!
On what was supposed to be a crystal clear night, Dave and I were excited to try snapping some star photos. Throughout the entire night, a low and ominous cloud hung just above the tops of mountains. The cloud had an odd, rusty under glow to it, which confused us since were we dozens of miles from the nearest village. The light and cloud threw all of our night pictures off and we gave up. Continuing down the road, we found the 'cloud' was actually smoke, the the glow was a field of embers from a recent forest fire.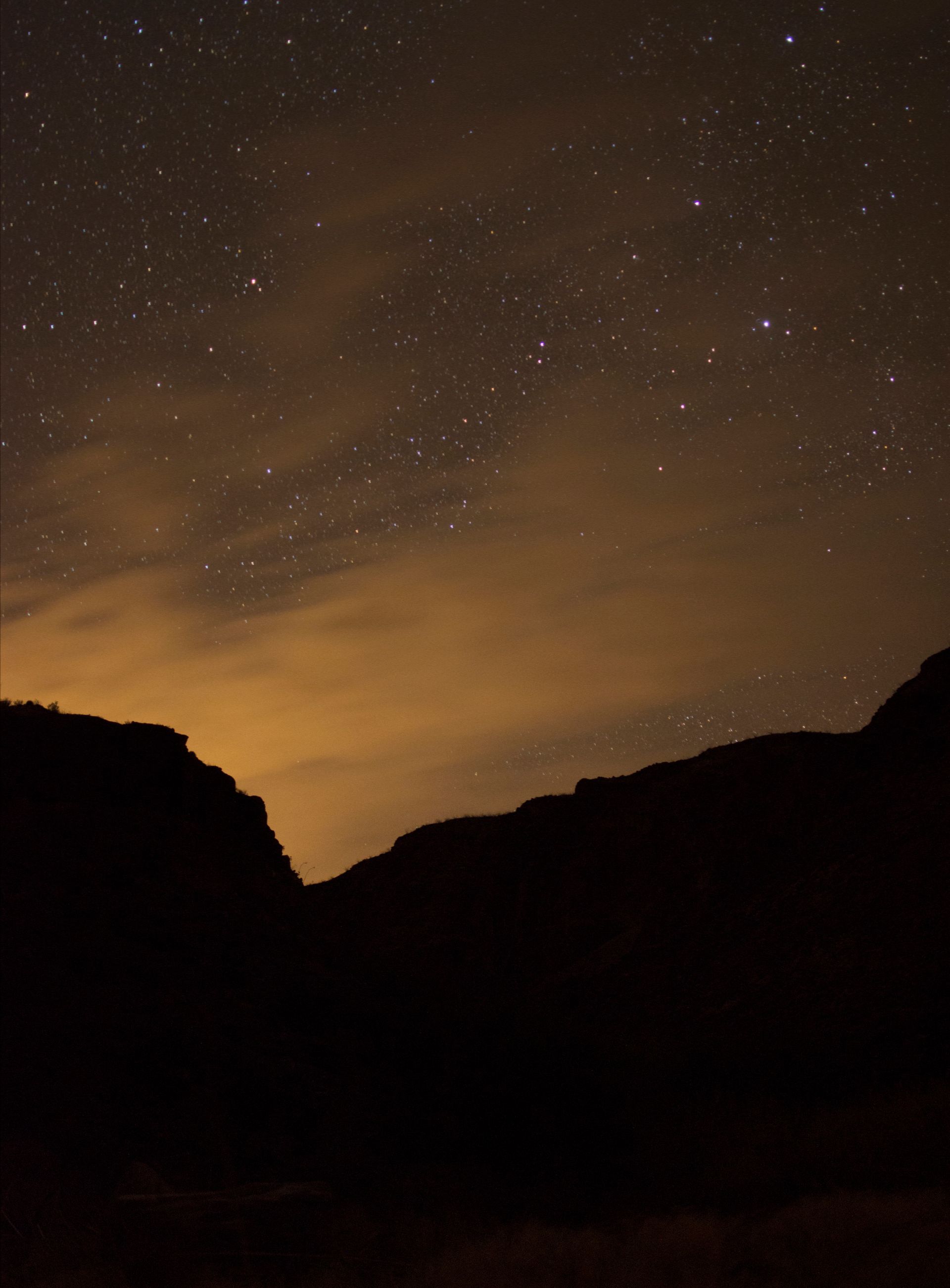 I wish I had more to write about the remote state park, but I decided to spend a majority of my time in Big Bend National Park. Even from what I saw of Big Bend Ranch, I knew it needed a high position. With an abundance of trails, including the 20 mile Rancherias Trail that starts near Closed Canyon Big Bend Ranch is a must see when visiting west Texas.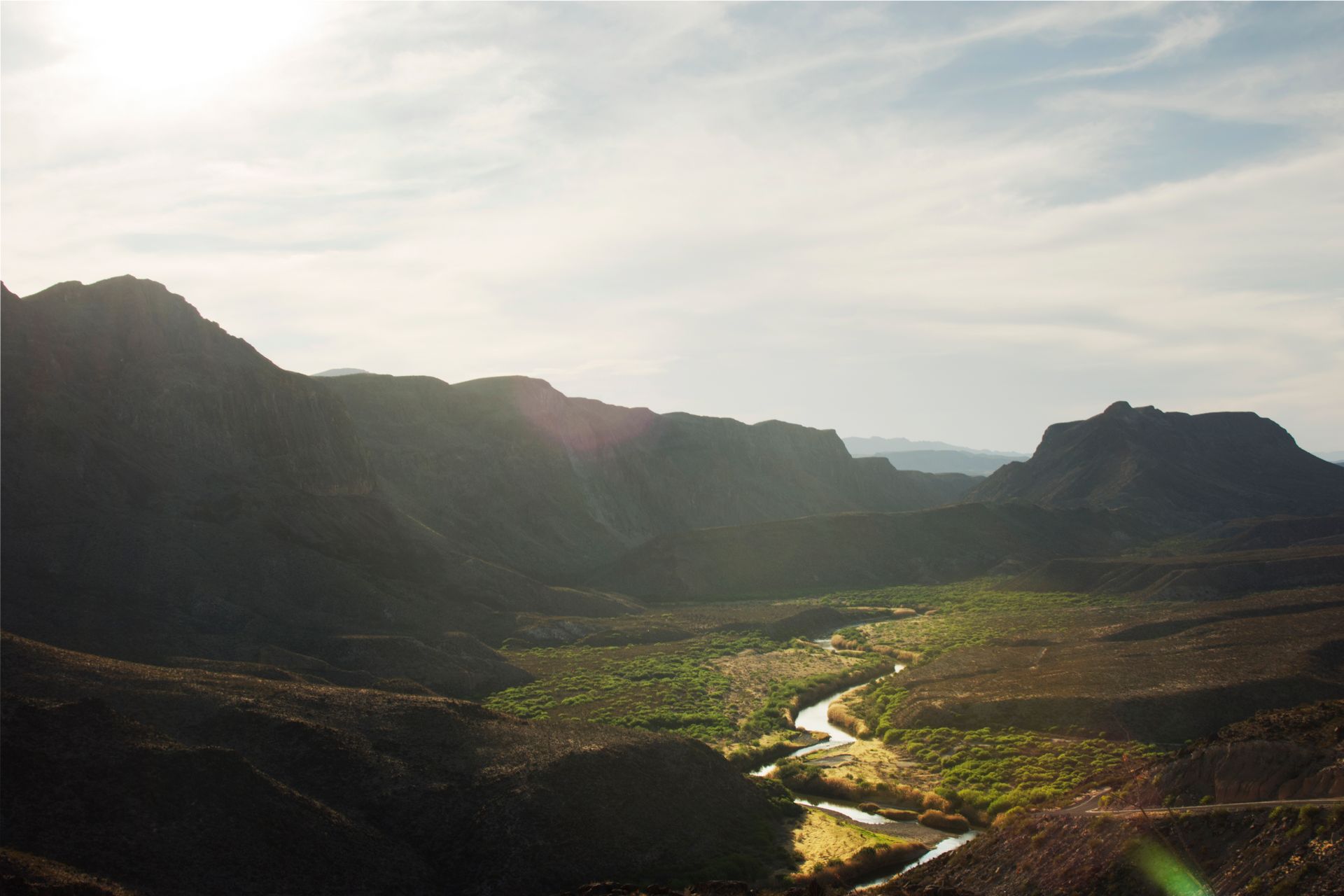 2) Guadalupe Mountains National Park
I have written extensively on my time in Guadalupe National Park, but it never hurts to have a reminder. Guadalupe has been, to this day, possibly the most surprising park I have visited. Frankly, I wasn't expecting much, but Guadalupe did nothing short of blowing me away at nearly every turn. The park has long trials, stunning remoteness, and the some of tallest peaks in Texas.
The Guadalupe Mountains are highly underrated in my opinion. They are remote, rugged, and wild (even if the national park is a relatively small one). Being one of the least visited national parks in the county (160,000 annually), I got the sense that many Texans wouldn't even recognize it to be in their state. If you are lucky, you may even have the park to yourself (like I did when I visited). For those who like a challenge, the Guadalupe Mountains are also good option, being an experienced backpacker, I was not expecting such difficulty.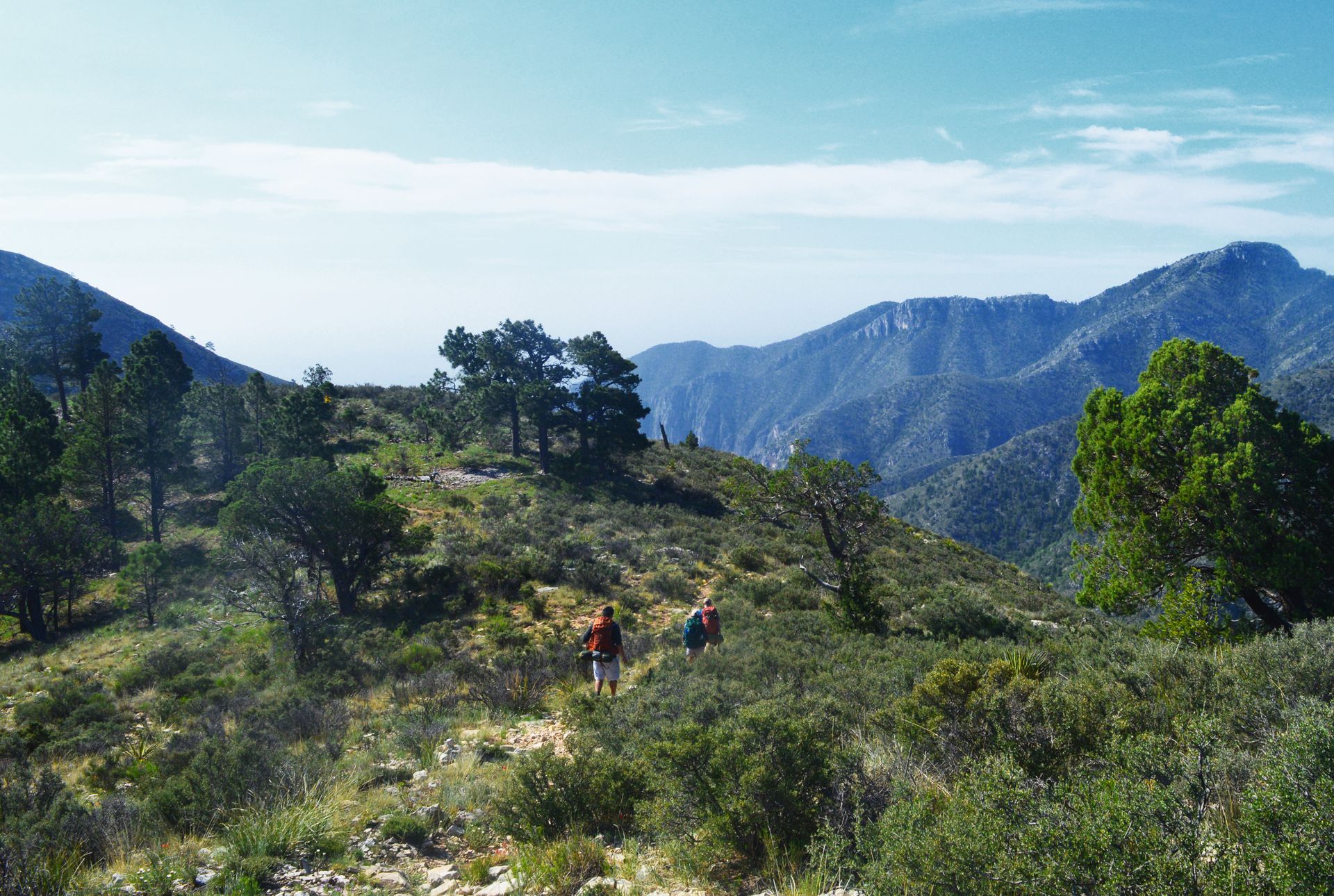 You can read everything I have already said about the park here, and like I've said before, the Guadalupe Mountains are well worth the visit, and is easily among the top of top places to visit in west Texas. Some points of interest in the park:
El Capitan
Guadalupe Peak
McKittrick Canyon
Blue Ridge Mountain Loop
Salt Flats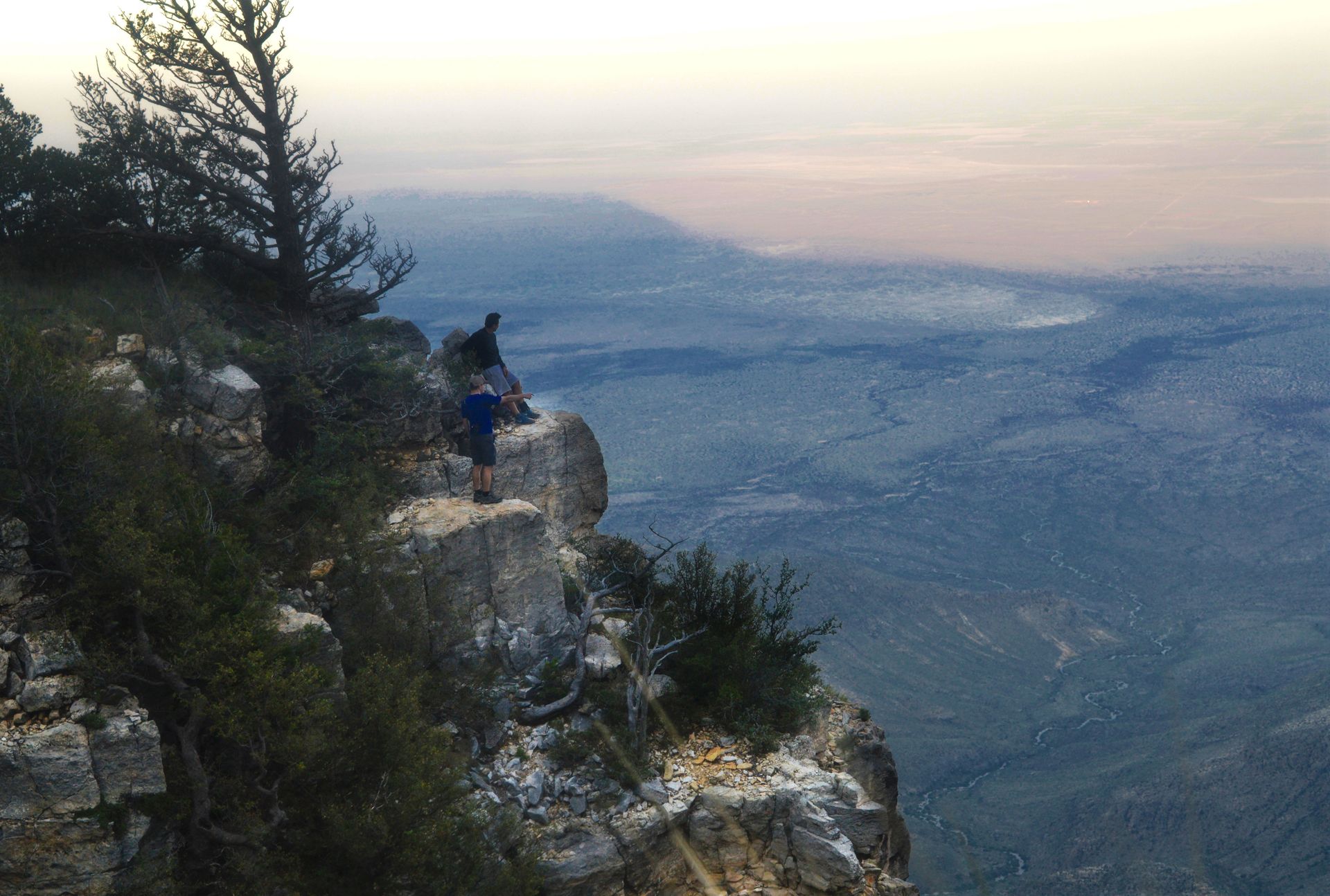 1) Big Bend National Park
It should be no surprise that Big Bend takes the number one spot to visit in west Texas. Dominating, rugged, and beautiful, the Chisos Mountains carved a place in my heart. Not only is Big Bend my favorite spot in Texas, but it also ranks among my favorite places I have seen in the county. Has just about everything for hikers; forests, deserts, mountains, rivers, hot springs, canyons, and much more. Big Bend also perfectly represents my feelings on Texas - Unexpectedly diverse, both the landscape and people.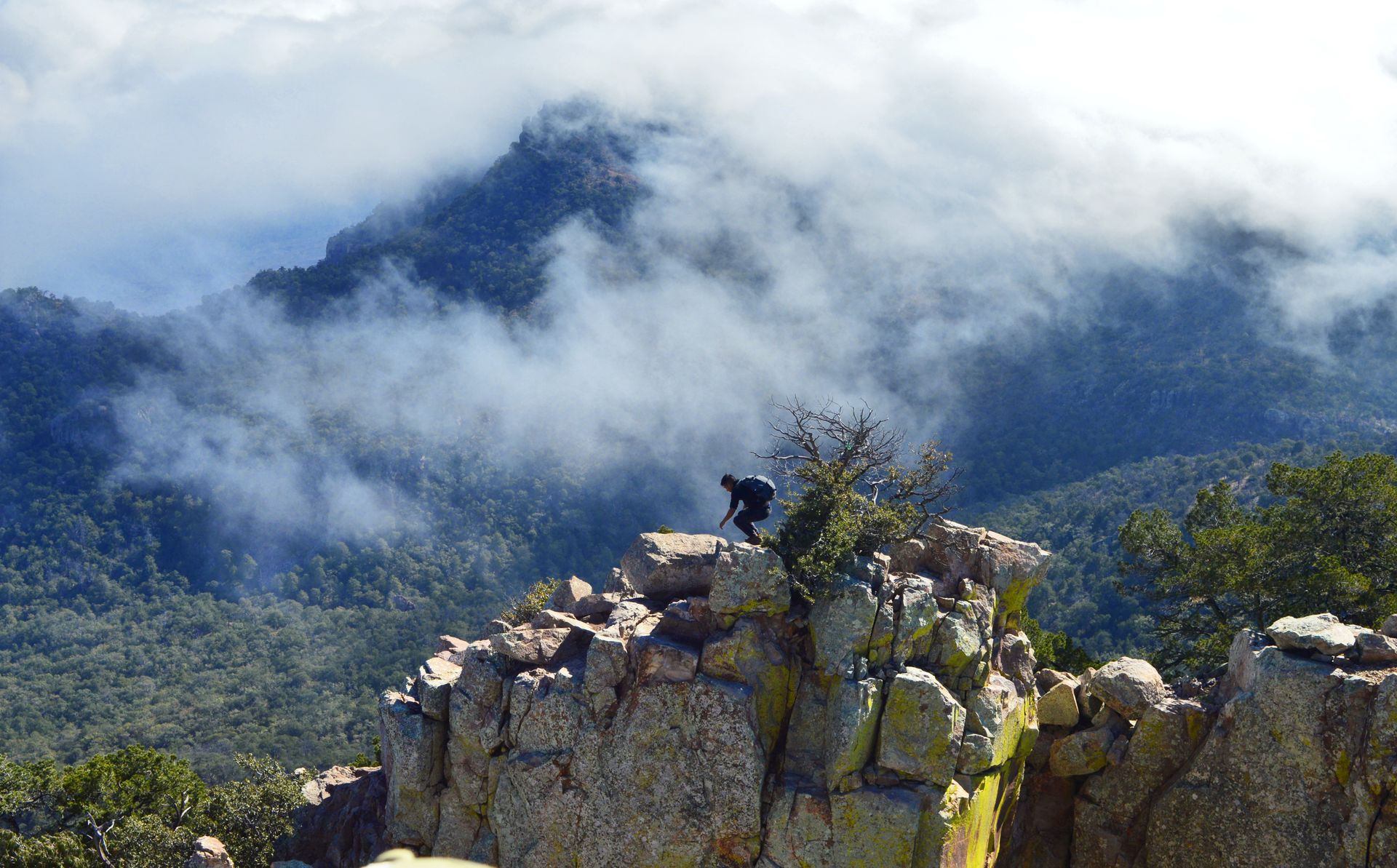 Some of the best trails and attractions in Big Bend National Park include:
Emory Peak
Mule Ears
Hot Spring Trail
Outer Mountain Loop Trail (for backpackers)
Chisos Basin
The South Rim
Santa Elena Canyon
Window Trail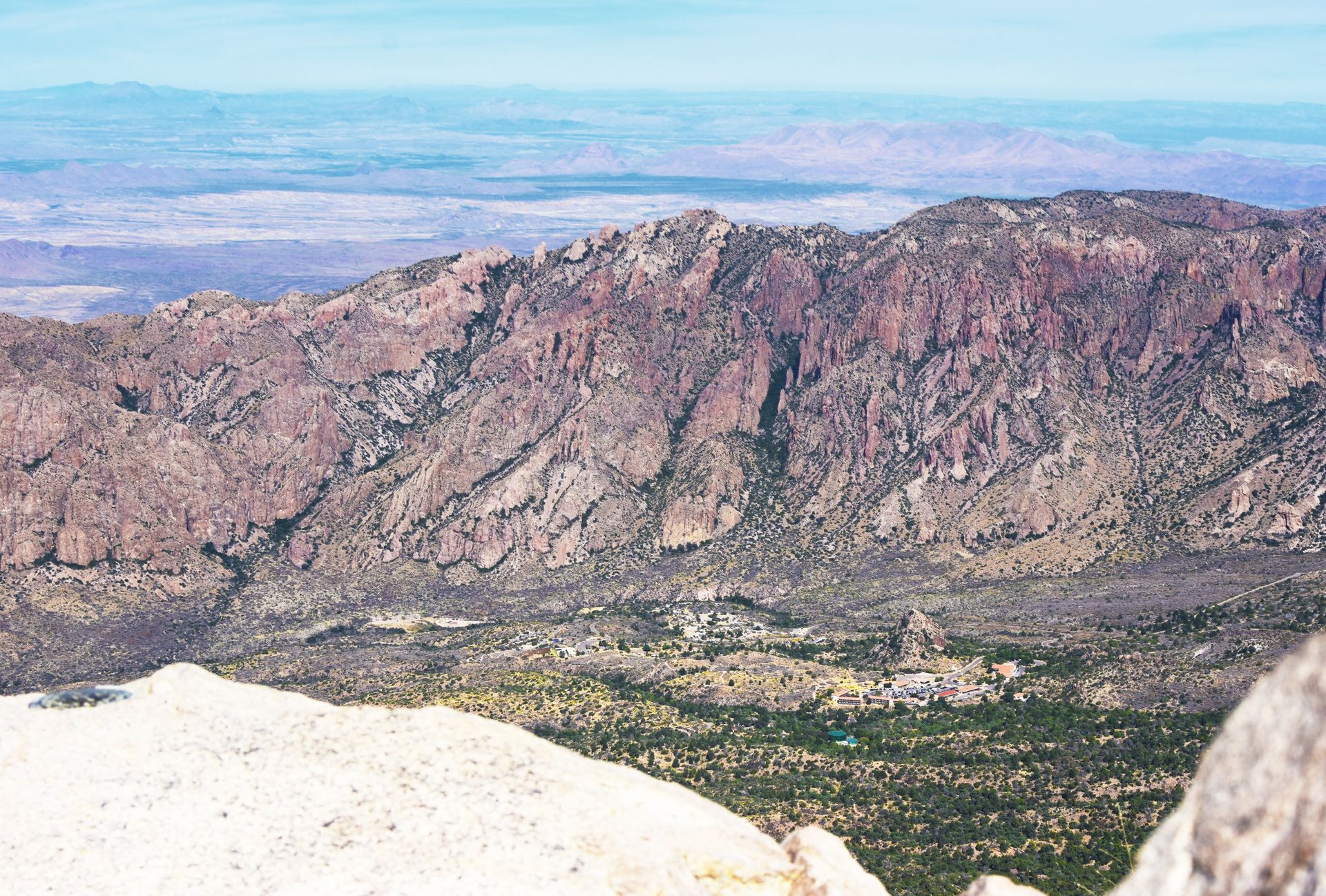 You really can't go wrong in West Texas. I have come back to the area time and time again, and each time I find a new place to add to the growing list. If you live in Houston, Austin, or San Antonio, there is really no excuse not to take a weekend trip and get intimate with your state. You are blessed to live in one with as many options as Texas.